Foxtail Millet Vermicelli
No White Rice | Zero Trans Fat | No Maida | Zero Saturated Fat
Sale price

₹ 129

Regular price

Unit price

per
Baked, not fried

Zero maida, preservatives, artificial colours or flavours, trans fat or cholesterol

100% Vegetarian

Use in anything - kheer, payasam, vermicelli (semiya) upma, pulav, etc.

Cooks in 6-8 minutes

Best before 9 months from the date of packaging
Awesomeness Inside:
Foxtail millet - rich source of vitamin A
Check Availablity:
Cash On Delivery Not Available
Made by Two Mothers
My first child was a fussy eater.
I was always looking for a ways to make breakfasts maida free.
~ Shauravi Malik, Co-founder
Our Vermicelli
Wholegrain foxtail millet
Baked
Rich source of vitamin A and magnesium
Zero additives
Regular Vermicelli
Maida
Fried
Micronutrient deficient
Preservatives
Why is foxtail millet vermicelli a good choice?
Millets are naturally gluten-free grains rich in proteins, fibre, with a lower Glycemic Index than other grains. They're low in fat and rich in calcium, iron, potassium, and other nutrients. Foxtail millet is a particularly good source of magnesium.
Foxtail millet flour (navane / thinai / kangri), wholewheat flour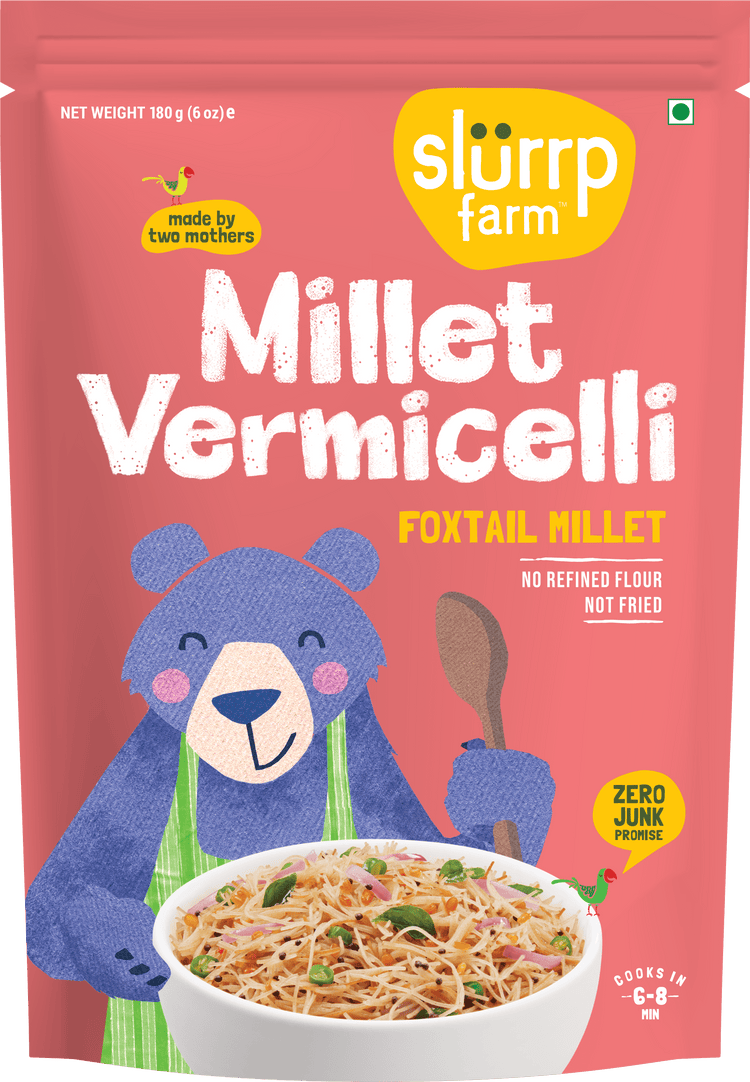 Foxtail Millet Vermicelli
Vermicelli millet
Good and tasty, price is little more
Foxtail Millet Vermicelli
Foxtail Millet Vermicelli
Foxtail Millet Vermicelli
Foxtail Millet Vermicelli
Vermicelli millet
Good and tasty, price is little more
Foxtail Millet Vermicelli
Foxtail Millet Vermicelli
Foxtail Millet Vermicelli