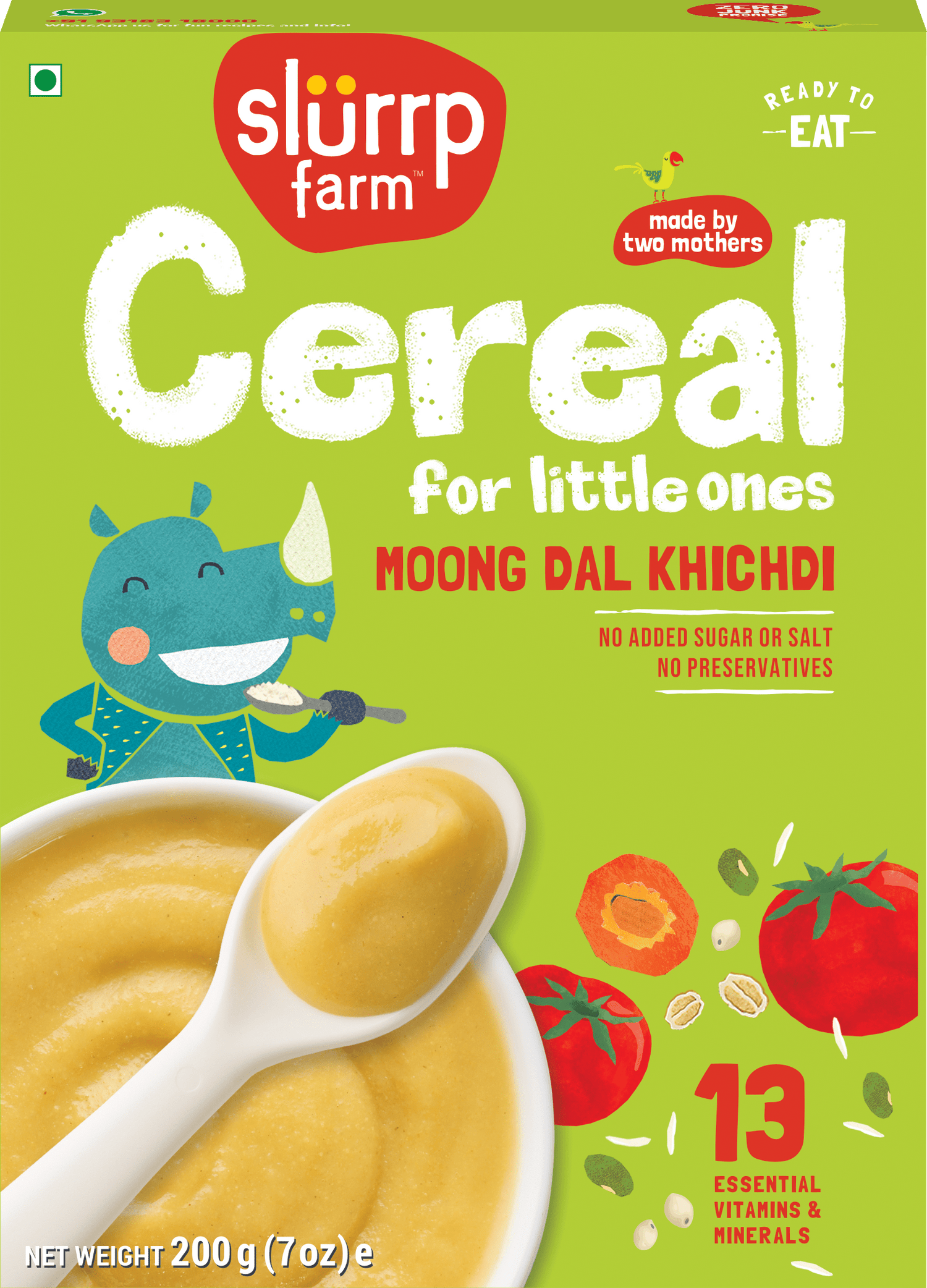 Moong Dal Khichdi Porridge Mix
Healthy Cereal with Real Vegetables | Travel Friendly
Sale price

₹ 269

Regular price

₹ 299

Unit price

per
Ideal for children who have started eating solid food
Made using jowar, natural moong dal, and real veggies such as carrot and tomato
Zero maida, sugar, salt, trans fat, preservatives, artificial colours or flavours
How to make: Add 3 level scoops of porridge in a boiled water bowl, stir continuously. Serve immediately.
Best before 12 months from the date of packaging
Storage requirements- Once opened, transfer the contents to an air tight container and store in a cool dry place
Awesomeness Inside:
Moong dal - best source of plant-based protein, calcium, and dietary fibre
Jowar - naturally gluten free grain and protein rich
Made by two mother with traditional wisdom
Check Availablity:
Cash On Delivery Not Available
Made by Two Mothers
A dollop of ghee makes this come alive!
We love khichdi, and this one has moong daal which is gentle and easy to digest.
~ Shauravi Malik, Co-founder
Our Cereals
Multigrains and Moong daal, No Wheat
Rich source of protien (15%)
Real carrot and tomato
Zero artificial additives
Regular Cereals
Maida
Macronutrient deficient
Artificial flavours
Preservatives
When can I introduce this to my little one?
If your little one has already been introduced to some solids or our single-grain cereals like sprouted ragi or oats, it would be a good time to try this multigrain cereal.
How much should I feed my child?
Typically up to three scoops of our cereal can be given per serving.
Is this ready to eat?
Yes! Our moong dal khichdi is an instant mix made by simply adding it to boiled water.
How is it beneficial for my baby?
Our moong dal khichdi mix is made from a blend of rice, jowar, moong dal, and oats. These supergrains are loaded with essential nutrients like fibre, protein, calcium, and other vitamins and minerals. Our mix is flavoured with natural tomato, carrot, turmeric, cumin, and coriander, which add more nutrients as well as flavour. Also, moong dal is very easy for little tummies to digest.
How should I store this once opened?
Once opened, transfer the contents to an airtight container and use them within a month or by the expiry date, whichever comes first.
Supergrain blend [Rice, Jowar (Sorghum), Moong Dal, Oats], Tomato powder, Carrot powder, Turmeric powder, Cumin powder and Coriander powder, Vitamins and Minerals
Moong Dal Khichdi Porridge Mix
Moong Dal Khichdi Porridge Mix
I loved the product…without any guilt i am using it
Moong dal porridge mix
It's a super and very tasty cereal which my baby likes more..it's an easy to make..I ordered 3 cereal packs
Moong Dal Khichdi Porridge Mix
Moong Dal Khichdi Porridge Mix
I loved the product…without any guilt i am using it
Moong dal porridge mix
It's a super and very tasty cereal which my baby likes more..it's an easy to make..I ordered 3 cereal packs